Neue Publikation von Hans Harder and Dhruv Raina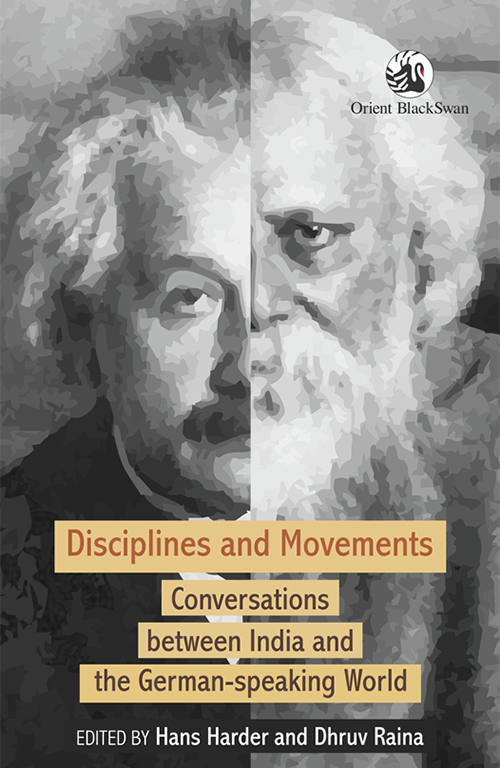 Prof. Dr. Hans Harder hat zusammen mit Dhruv Raina das Buch "Disciplines and Movements: Conversations between India and the German-speaking world" beim Verlag Orient BlackSwan veröffentlicht: "The late nineteenth and early twentieth century saw the introduction of modern disciplines within the university system. In India, the modern university as a 'teaching and examining body' set up as an instrument of colonial governmentality, was slowly progressing towards the institution of postgraduate teaching and research. While many disciplines were still fluid, there was a distinct movement towards the institutionalisation of disciplinary identities in South Asia.
Disciplines and Movements studies this historical period till a little after the end of colonialism in India through an exploration of a set of conversations and transnational encounters between Indian and German-speaking intellectuals and academicians at this time, which shaped the contours of disciplines such as psychology and sociology, and of course, in a different way, Indology. Moving away from the customary binary of Eastern and Western knowledge forms, the chapters bring together diverse aspects of this encounter: the movement and meeting of scholars, shared intellectual and scientific concerns, the mode and content of communication, and how colonial and other knowledge forms constituted the identity of the modern sciences and social sciences.
Coming from a wide range of disciplines, the book has chapters by Martin Fuchs, Roddam Narasimha, Dhruv Raina, Axel Michaels, Benjamin Zachariah, Angelika Malinar, Rajendra Dengle, Christiane Hartnack, and Hans Harder. The chapter authors highlight little-known, yet key aspects of these encounters: the critical role of translation in facilitating – and, at times, distorting – flows of knowledge; exchanges between Indian and German/Austrian scientists between the two World Wars; German disciplinary engagements with India in the fields of sociology, psychology, and media theory; and the extent and nature of the closeness of Indian and German thought in relation to fascism and National Socialism."
Weitere informationen finden Sie hier.
Wednesday, 18. May.